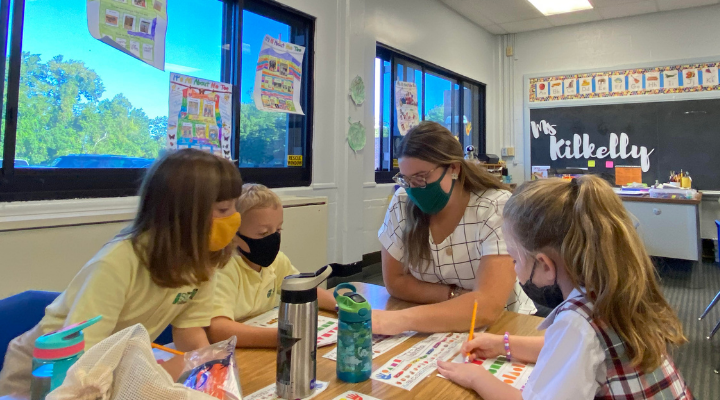 Kindergarten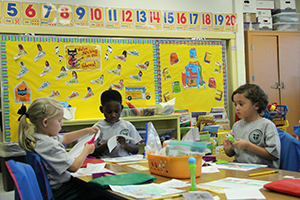 The aim of the kindergarten program is to develop the unique abilities of each child. Spiritual, intellectual, physical, and social-emotional growth is nurtured through the integration of school, family, and faith. In this self-contained environment, each child receives instruction in religion, math, language arts, science, and social studies.

Thematic units enhance the learning experience and allow each child to learn through structured and unstructured activities.

Kindergarten Curriculum
Religion-a faith development program that explores God's gift of love including Family Life education
Language Arts (includes Reading, Writing, Grammar, Handwriting)-a comprehensive program that ensures students grow as life-long readers and writers




Students at Monsignor Slade Catholic School learn to perfect their printing using the Zaner-Bloser method.

At the end of the year our kindergarten students are reading or demonstrating the skills of emerging readers.

Mathematics-a hands on program that integrates exploration, critical thinking, and problem solving




Science-areas of study include science inquiry, life, earth, space, and physical sciences

Students learn about the life cycle through incubating and hatching chicks

Using manipulative tools, our students use hands-on activities to learn about counting, number order, addition, subtraction, money and more.

Social Studies-areas of study include culture and diversity, time, continuity and change, people, places and environments, and government




Children study their community and the roles of community helpers.

Our students also learn about their home state of Maryland.

In November, our Kindergarten students partner with our first grade students to re-enact the first Thanksgiving feast.
Additionally, the children's experience is broadened through weekly classes in physical education, art, computer technology, music, and media.
By the completion of kindergarten, students will master a variety of skills including:
Making connections to the text.
Greater emphasis on the writing process.
Memorizes and recite address, phone number, and birthday.
Fine motor control in order to draw, color, and print.
Ability to hold pencil and crayon properly, control pencil and crayon and scissors, and color within boundaries.
Ability to sit properly and hold the paper in the correct position for writing.
To discover the opportunities afforded to your soon-to-be-kindergartner at Monsignor Slade, schedule a personalized tour today.