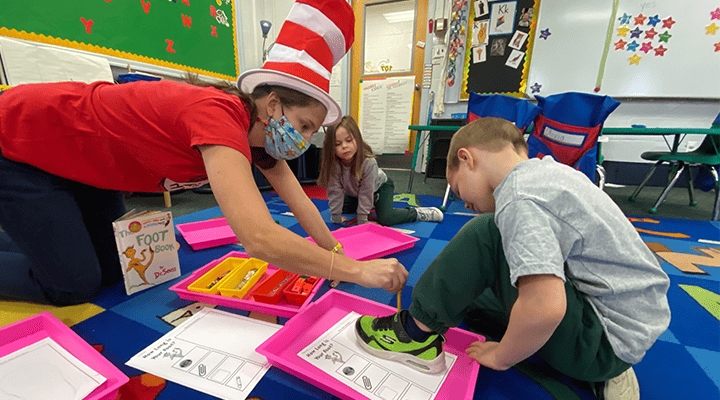 Pre-K2 through Pre-K4: Early Childhood Education
Philosophy
The underlying instructional strategy in early education throughout preschool is the use of organized and free-play activities that are intended to provide opportunities for the child to interact, explore and relate successfully in his/her environment. We strive to recognize each student as a child of God, capable of growing in his or her own unique way; to provide an atmosphere of love and trust in which the child is free to explore; to instill in each child a sense of self-worth and a love of learning. We offer a challenging curriculum and opportunities for success.
Our preschool program uses multi-sensory, hands-on learning approaches to teach fine motor skills, auditory and visual learning, using center time, books, songs, technology, and art. Free play, story time, show and tell, music, crafts, and outdoor play fill the students' day.
Parents choose Monsignor Slade's preschool with confidence, knowing that their children spend their days in a nurturing environment, which also provides an early educational curriculum intended to prepare children for elementary education.

Slade's preschool programs can be combined with full-day, year-round childcare. Fee structures vary, depending on the combination of care selected. In all preschool classes, well-planned activities enable a child to learn, to share, and to respect the children around them. Each child will begin an educational process which, when nurtured, will enable him or her to grow academically, socially, and faithfully.

Preschool Admission
Our preschool program is licensed by the State of Maryland Department of Education, Early Childhood Development as Excels Level 5 which is the state's highest rating. A child entering our preschool must be in compliance with the age requirements of the State of Maryland regarding age of admission.
Children entering preschool must be 2, 3, or 4 years of age on or before September 1st of the current school year, according to Maryland State law. There are no exceptions to this policy.
Children with birthdays of September 2nd or later will be put in the program for younger students.
A birth certificate and various health forms, as well as other documents, must be submitted before enrollment in our program.
There is an application and a $100.00 new student application fee due in order to be considered for admission.
We are licensed for diapering in the two-year-old program.
Children entering the Pre-K4 program MUST be potty-trained.
Applications open in October of each year for preschool programs beginning the following September; re-registration takes place in November to re-register current students for the following school following September. Current students are given first priority, then children of currently enrolled Slade families. Monsignor Slade's preschool and Edu-Care programs are in high demand, due to an outstanding reputation and level of care -- places fill quickly and waiting lists start early. Families are encouraged to inquire about enrolling their child as soon as possible by completing an inquiry online.

Preschool and Extended Care Programs
Preschool
A curriculum-based program for children ages two, three, and four.
Full-day programs are available for Pre-K2.
Full and part-day programs are available in Pre-K3 and Pre-K4.
Full-day programs are available during the academic year and the summer months. (Students new to Pre-K2 must enter in the fall.)
Morning part-day programs are available during the academic year only in Pre-K3 and Pre-K4.
Extended Care
A program designed for children enrolled in the full-day PreK-4 program through the 8th grade at Monsignor Slade Catholic School.
Care is provided before and after the school day, and on some days when school is closed, with the exception of stated school holidays.
The program starts on the first day of school and runs through the last day of school.
Extended care hours begin at 7:00 a.m. and end at 5:00 p.m.
Extended care fees are $395.00 per month.
Care is available during the summer months for Slade children in PreK-4 through the fourth grade, for an additional fee.
Holidays

Labor Day
Thanksgiving
Christmas and New Year's Day
Martin Luther King Day
President's Day
Holy Thursday (early closure)
Good Friday
Easter Monday
Memorial Day
Juneteenth
The week of July 4th
The first week in August
Contact Us
For more information about Pre-K2, Pre-K3, Pre-K4 or Extended Care, please contact Mrs. Carrie Hilmer at c.hilmer@msladeschool.com or 410-766-7130.