About Us
Monsignor Slade Catholic School is an exceptional place of learning. Our outstanding team of faith-filled, dedicated professionals and committed families collaborate in integrating faith formation with sound intellectual preparation, governed by a rigorous academic curriculum. The guiding vision of our Principal, Assistant Principal, and entire school staff is the formation of a peace-filled school community, in which our students and staff members treat each other with care and respect.

Educating students since 1954, Monsignor Slade Catholic School is fully committed to being a school for the twenty-first century. Deep roots in serving our community and a focus on continuing intellectual growth advances our mission forward as a school of excellence in the service of God and His Church. Our students know who they are and where they are heading -- students of all faiths and backgrounds are welcome here. Please join us for an Open House or schedule a Private Tour to learn more about the positive difference a Slade education can make in your child's life.
Our Campus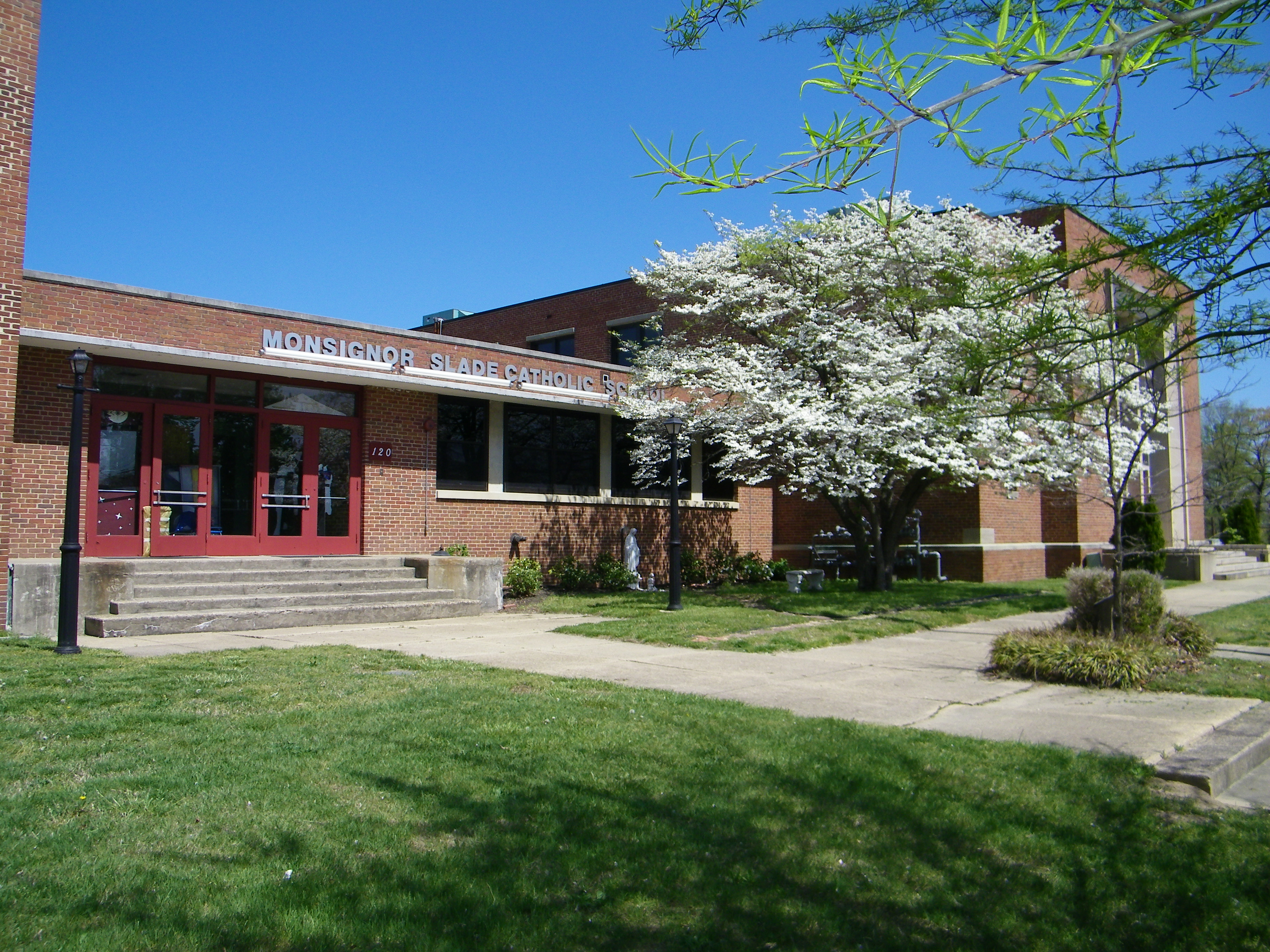 Monsignor Slade Catholic School is located in northern Anne Arundel County, just off 97 in Glen Burnie, Maryland. Our building houses 31 classrooms for our PreK 4s through 8th grade, learning resource rooms, music room, computer labs, Media Center, and a wide variety of support office spaces. Classrooms are very large, with oversized, double-glazed windows which allow sunlight to pour in while ensuring quiet from nearby BWI airport.
Our spacious gymnasium/auditorium offers a full-size basketball court, performance stage, and concert venue -- perfect for honing sports, music and theater skills. This bright, happy space is used for physical education classes, Masses, performing arts events, sports events, meetings, and social events. Located on the ground level is a fully functioning school cafeteria and a separate recently renovated multi-purpose room, which are also used for school and community functions.
Connected to our main building, the Christ the King of Glen Burnie's Parish Center houses our precious Pre-K 2 and 3 year olds. All of this is surrounded by 10.5 acres, with extensive playing fields, two playgrounds and outdoor basketball courts, as well as quiet places of respite to sit and talk. Our entire campus is very well-maintained by a dedicated maintenance team, providing a clean, bright and cheerful environment for our students, faculty, and staff to work in. Our classrooms reflect a great deal of self-expression and creativity on both the parts of the students and teachers, with displays of student artwork lining every hallway. This is a happy school, infused with the Spirit of Slade!
School Board
Archdiocesan policy requires every Catholic school to have a school board, regardless of its model of governance. School boards are diverse and seek to reflect the student population, include community representation, and have persons with expertise related to school needs. Meet our school board members for the 2022-2023 school year!