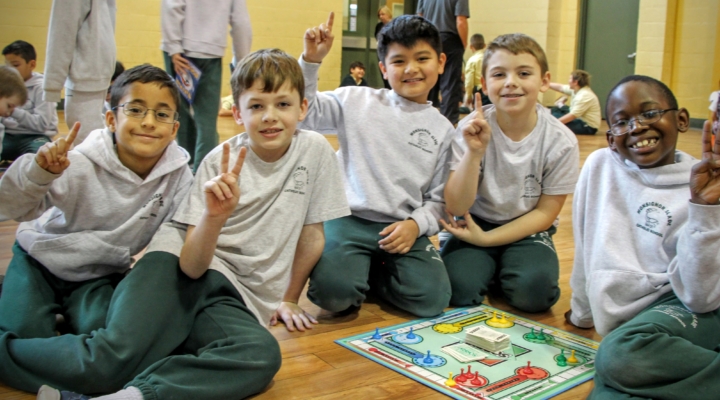 Resources
Absences & Early Dismissals
If a student will be absent due to illness or any other reason, please inform the student's homeroom teacher via email. The school nurse should also be copied on that email using absences@msladeschool.com.
In the event of an early dismissal, planned or unexpected, please email earlydismissal@msladeschool.com in addition to your student's homeroom or subject area teacher.
Homework
Parents and students can access teacher websites to find information regarding classes, schedules, homework, and projects.
Forms & Documents
See Forms & Documents to download the student handbook and forms for admissions, volunteering, medical, extended care, and clubs.
---
SchoolAdmin Parent Portal
Admission and enrollment processes are now managed through SchoolAdmin. Accessing the SchoolAdmin Portal allows parents to begin the admissions process, re-register their student, manage enrollment forms and finalize enrollment agreements. Once a child is admitted or enrolled, a parent must authenticate their access to their student's portal. For assistance with this process, contact the registrar.

PowerSchool
PowerSchool allows parents to keep current with their child's progress by viewing grades online. See how to set up a parent access account to view your student's grades and assignments on PowerSchool, or how to add a child to an existing PowerSchool account.

FACTS
FACTS will continue to serve as the preferred provider for financial aid and tuition management service within the Archdiocese of Baltimore. All families are required to sign up and make payment through FACTS utilizing automatic payments (EFT) from a bank account, credit card, or processing checks sent to a secure processing center. Easy and convenient online registration will be available.
---
Home and School Association (HASA)
The Home & School Association binds parents, students, and teachers more closely in a formal association. Parents are encouraged to attend the pre-announced, scheduled meetings during the year.
---
Parent Volunteering
The mission of our school is to work with the parents in order to educate the students. There are numerous areas and activities where parents may volunteer to help the school. Volunteer opportunities exist both during the school day and outside of school hours. It is hoped that each family can find some area or activity to meet this need.
VIRTUS
With our longstanding commitment in mind, all parishes and archdiocesan Catholic Schools will be using VIRTUS a new compliance management system that will allow all parishes and schools to facilitate compliance with archdiocesan child protection requirements for all volunteers who work with minors, employees, and clergy.
---
Weekly Updates
Stay up to date with our Weekly Updates.

---
Uniforms
For information regarding school uniforms, please see Uniforms.
---
AdvancED
All Archdiocesan high schools and elementary schools are accredited as a system through AdvancED. Each school is evaluated based on the National Standards and Benchmarks for Effective Catholic Elementary and Secondary Schools.
---
Archdiocesan Collaborative School
An Archdiocesan Collaborative School (ACS) is a model of shared governance developed by the Archdiocese of Baltimore. The ACS model utilizes a shared governance model that fosters unity through the collaboration of stakeholders in support of Catholic schools. The model allows decisions regarding day-to-day school operations to be made at the local level, while individual schools and school administrators are supported centrally from the Department of Catholic Schools and the Catholic Center's Central Services in areas such as academics, finance, development, enrollment management and marketing.
---
Positive School Environment
Learn more about Monsignor Slade School's efforts to create a positive school environment.
---
Hours of Operation
For information regarding school hours, summer office hours, and extended care hours, see Hours of Operation.