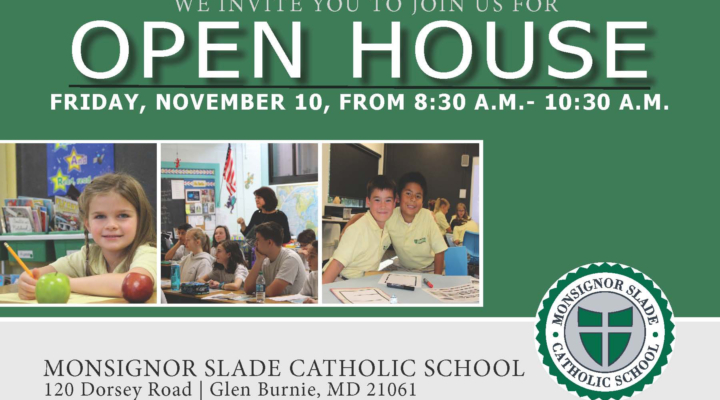 Welcome to Open House!
Monsignor Slade Catholic School will hold the first Open House of the recruitment season on November 10, 2017. All are welcome to attend during the window of 8:30 AM - 10:30 AM. Families interested in a caring, dynamic environment for their student are able to visit the school and see our students and teachers in action.
Opportunities to tour the school, visit our new STEM Lab, and meet our students and teachers will abound.
A snapshot of Monsignor Slade Catholic School
At Monsignor Slade Catholic School a tradition of more than sixty years is honored through dedication to our faith, pursuit of knowledge, and a strong commitment to service.
Faith
Our students are guided in the Catholic faith through daily classroom instruction.
We celebrate Mass monthly; students of all faiths respectfully attend.
Our students are diverse in their faith beliefs; we join together weekly for prayer services to celebrate to successes of our students, teachers, and school.
Knowledge
Graduates of Monsignor Slade Catholic School have a 100% acceptance rate to Catholic high schools.
All of teachers at Monsignor Slade Catholic School are certified; many have advanced degrees.
Students are encouraged to achieve above grade level when appropriate and are consistently challenged in the classroom.
We do not instruct our students based on common core.
Our students begin cursive handwriting in second grade.
All students in 5th - 8th grade have access to individually assigned Chromebooks for use in the classroom each day.
Service
Students at Monsignor Slade Catholic School have supported Operacion Mato Grosso in Peru by sending school supplies and dry goods in 2016-2017.
Monsignor Slade families have supported Apopka with a Christmas toy drive for more than 35 years.
We feed the hungry! The Maryland Food Bank receives generous donations from our students and families as we return to school every year.