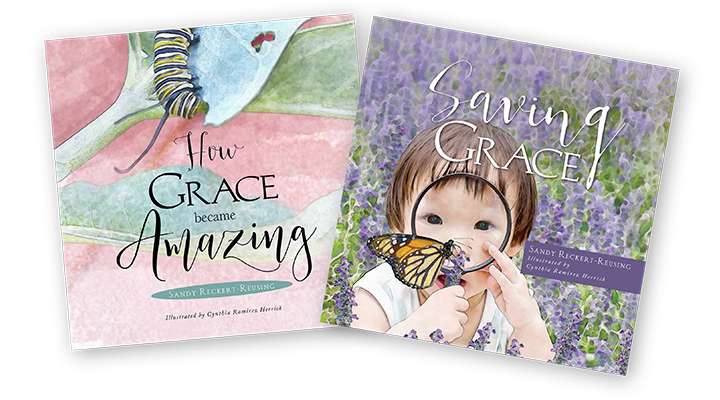 Third Graders Enjoy Visit from Author and Illustrator
Third grade students in Mrs. Winter's class recently had the opportunity to enjoy a reading of How Grace Became Amazing and Saving Grace by author, Sandy Reckert-Reusing, and illustrator, Cynthia Herrick.
Mrs. Reckert-Reusing's first book, How Grace Became Amazing, was inspired by a caterpillar's chrysalis and eventual transformation to a butterfly witnessed by her sister. During the process of the caterpillar's transformation, Mrs. Reckert-Reusing was inspired to write a children's story which demonstrated that God is with us at all time; His divine plan is written for our own personal growth and transformation; and that with the wings of grace, we, too, can be transformed. Her sequel, Saving Grace, illustrates a Monarch butterfly's migration. Reckert-Reusing uses Grace's story to show that God gives all the ability and strength to do that which seems impossible.

The children enjoyed the author's reading and spent time discussing the process of writing a book and illustrating it with both the author and illustrator. Fully engaged in the discussion, Slade third graders were quick to ask insightful questions, discuss the artistic process of illustrating a book, and share their own attempts at creative writing and illustration.
Mrs. Reckert-Reusing also has a connection to Monsignor Slade; her daughter graduated from Monsignor Slade Catholic School. As an alumni parent, Reckert-Reusing appreciated the opportunity to return to Slade and share something so precious to her with a new generation of Monsignor Slade students. She said, "As an author of children's books, it was so rewarding to see the students' excitement about the stories, and then their understanding of how God teaches lessons through nature."
Ms. Herrick, the books' illustrator, sparkled with excitement as she shared her experiences designing the artwork in Grace's stories. She explained her creative process and how computers factored into her illustrations-- she could use a computer to create beautiful artwork from photographs. "The kids were amazing and it was nice to witness their enthusiasm for writing, illustration, and publishing. This third grade class was way beyond their years in their quest for knowledge," said Herrick.
For more information or the opportunity to purchase these beautiful stories, please visit: sandyreckertreusingbook.com