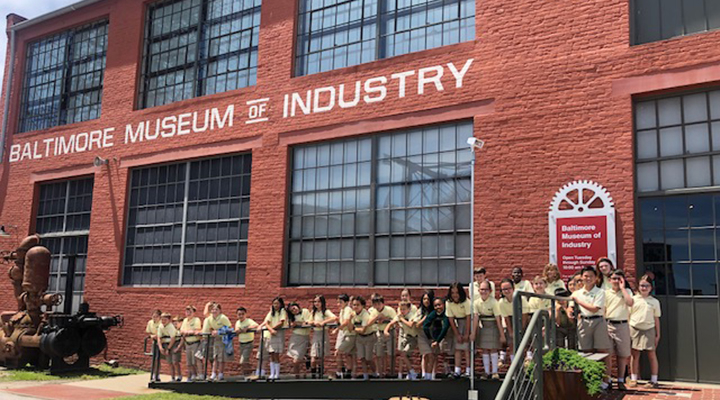 Third Grade Students Visit the Museum of Industry
Students in the third grade at Monsignor Slade took a field trip to the Baltimore Museum of Industry. The mission of the museum is to celebrate Maryland's industrial legacy and show how innovation fuels ongoing progress. The exhibitions, collections, and educational programs engaged Monsignor Slade's third grade students in the stories of the innovators and industrialists who built Baltimore and those who continue to shape the future of the city and region.
Through their social studies classes, students have been learning about how technology and industry can help our communities to grow and thrive. While at the museum, the children were able tour the museum and see outdoor and indoor exhibits. The students learned about industry unique to cities like Baltimore, even watching a demonstration on how people shucked and canned oysters. They also learned about the printing and garment industries in Baltimore. Jacob Schneider most enjoyed the printing press exhibit. He said, "We learned that they had to handset all of the letters on the press to print magazines and newspapers. Then they had to keep re-inking the press because the ink would wear off."
Kara Mehta, another third grade student, was quick to identify her favorite part of their visit. "I enjoyed learning about how the blacksmiths would make tools, then use those tools to make useful items that people needed like coathooks," she said.
At Monsignor Slade Catholic School, educators understand the value of learning through experience so they arranged for the students to work on an assembly line and design, then create a roller coaster, too.
The museum is located in an 1860s oyster cannery on Baltimore's waterfront. If you are looking for a fun activity to beat the summer heat, the Museum of Industry offers activities and points of interest for visitors of all ages.
About Monsignor Slade Catholic School
Monsignor Slade Catholic School is a private elementary school for Pre-K2 through 8th grade students. The mission of Monsignor Slade Catholic School is to promote Catholic faith and intellectual development in our students. We do this by teaching about and modeling the precepts of the Catholic faith as well as challenging our students with a rigorous course of study. We do this so that they will use their faith, knowledge, and skills to shape their futures positively and work for the benefit of the whole society.