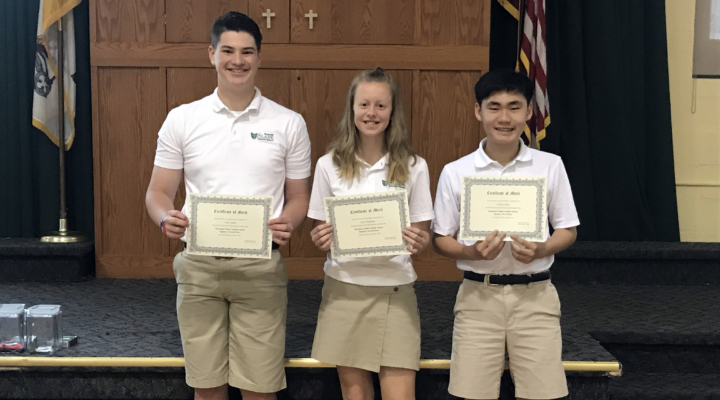 Slade Students Perform Well in Catholic Math League
Monsignor Slade Catholic School participates in the Catholic Math League. This national math competition began in 1997 to develop the test taking skills of participating students to support them as they take achievement tests and college entrance exams.
Students in third through eighth grades participated in math contests appropriate for their grade level through Algebra I. The contest consisted of four tests for each level in which three or more individuals took all four tests. Monsignor Slade students placed well in each grade level. The three top scoring students at each grade level were recognized at our morning prayer service. Congratulations on your achievement!
3rd Grade
1st Place: Kara Mehta
2nd Place: Josue Munoz
3rd Place: Lily Nguyen
4th Grade
1st Place: Miriam Toth-Fejel
2nd Place: Hayden Vess
3rd Place (tie): Ryan MacLean & Thomas Staiti
5th Grade
1st Place: Paige Gerwig
2nd Place: Cole Duffey
3rd Place: Kaitlyn Moon
6th Grade
1st Place: Abigail Conlon
2nd Place: Rachel Wilson
3rd Place: Madison Schneider
7th Grade:
1st Place: Colby Rich
2nd Place: Matthew Lenzenweger
3rd Place: Claire Bushar
8th Grade:
Pre-Algebra
1st Place: Andrew Ciresi
2nd Place: Adam Kripas
3rd Place: Katarynna Pizarro
Algebra I:
1st Place: Zachery Chun
2nd Place: Alyssa Dougherty
3rd Place: Conor Smith

A Monsignor Slade student in the 3rd grade division placed impressively well, finishing 4th among all 3rd grade competitors. Congratulations to Kara Mehta!

All of our students worked hard and placed well on these rigorous tests throughout the year. We are proud of your efforts and hope you continue to hone your mathematical prowess.
More information, scores and Monsignor Slade's overall standings in each grade level can be found at www.catholicmathleague.com.