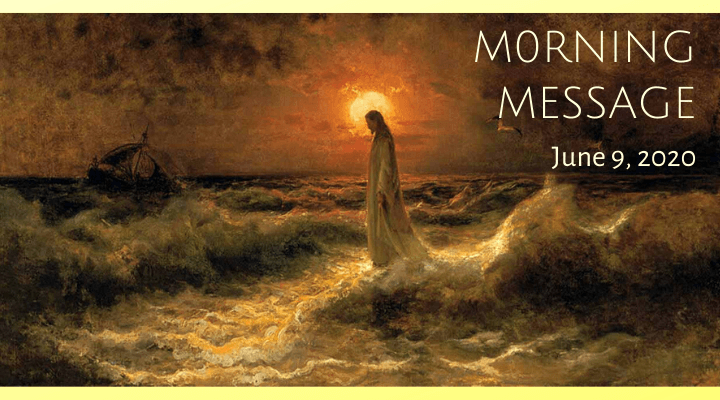 Morning Message: June 9
In today's miracle story, Jesus is saying to Peter, "You too can do amazing things, if you trust in me." If we have faith in Jesus, he can help us through difficult times.
A reading from the holy Gospel according to Matthew.
Jesus came walking toward the disciples on the sea. But when the disciples saw him walking on the sea, they were terrified, saying, "It is a ghost!" Immediately Jesus spoke to them and said, "Take heart, it is I; do not be afraid." Peter answered him, "Lord, if it is you, command me to come to you on the water." He said, "Come." So Peter got out of the boat, started walking on the water, and came toward Jesus. But when he noticed the strong wind, he became frightened, and beginning to sink, he cried out, "Lord, save me!" Jesus immediately reached out his hand and caught him, saying, "You of little faith, why did you doubt?" When they got into the boat, the wind ceased.
Think about this silently in your heart. If you act kindly to someone that people make fun of, would that feel miraculous to that person?
Boys and girls, I like to watch Major League Baseball and have missed watching it these past few months. I am sure many of you play baseball or softball. Do you know what the most important thing to remember is when playing baseball or any game that uses a ball? You have to keep your eye on the ball. If you don't keep your eye on the ball, you will spend all of your time chasing it, or worse, you might wind up with a black eye!
In our Bible lesson today, Simon Peter, one of Jesus' disciples, learned a lesson about the importance of keeping his eye on the ball. Well, actually, he learned about the importance of keeping his eyes upon Jesus!
In the reading from Matthew, why do you think Peter began to sink? It is because he began to look around at the mess he was in and took his eyes off of Jesus. As long as he kept his eyes on Jesus, he was fine, but when he took his eyes off of Jesus, he began to sink. You and I may encounter some pretty rough times in our life. As long as we keep our eyes upon Jesus and put our trust in him, we will be okay. But when we take our eyes off Jesus and put our confidence in our own ability, we will surely sink!
Dear Lord Jesus, when the storms of life come against us, help us to remember to keep our eyes on you and keep our faith and trust in you. Give us a strong faith. Help us to do what is right, even when it is hard. We ask this in Christ's name. Amen.