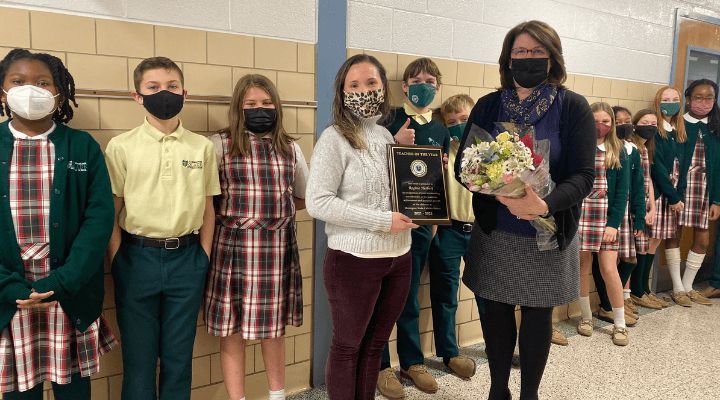 Monsignor Slade Teacher of the Year Embodies Holy Spirit's Gift of Humility
After celebrating Mass to open Catholic Schools Week, Monsignor Slade Catholic School announced its 2021 - 2022 Teacher of the Year: Mrs. Regina Herbert.
She has taught at Monsignor Slade for more than 11 years and was nominated by her fellow faculty members and staff to receive this award. Mrs. Herbert's experience spans 14 years; her interest in teaching as a vocation developed from a lifelong love of dance and opportunities to teach dance classes. "Teaching dance led me to pursue my teaching degree," Mrs. Herbert said. Her vocational career began at Ss. Coleman-John Neumann Catholic School (Archdiocese of Philadelphia) where she taught sixth grade. Today, Mrs. Herbert teaches Monsignor Slade fifth graders Mathematics, Science, and Religion.
"Each year, we choose from an extremely talented teaching staff to select a teacher of the year. It is a most difficult task as every teacher at Slade should be honored and celebrated. This year, Mrs. Herbert stood out as the most deserving candidate because she truly embodies the mission of Catholic Schools, said our principal," Mrs. Cox.
Mrs. Herbert models Christ-like behavior to her students; in her classroom, she is positive, dedicated, and nurturing. The lessons Mrs. Herbert prepares for her students are engaging, thought-provoking, and are created to help students stretch their thinking. "Teaching fifth grade is a perfect fit for me," said Mrs. Herbert, "my students are enthusiastic to learn and are starting to form their own ideas about the world around them. I love having discussions in religion and applying the Gospel teaching to their lives."
Mrs. Herbert is also very creative in the classroom. You can often find her engaged in a small group lesson with her students why other members of the class are participating in creative activities to reinforce her lessons.
Humility is a gift of the Holy Spirit with which Mrs. Herbert has been abundantly blessed. Upon announcement of this year's Teacher of the Year recipient, Mrs. Herbert's students exclaimed, "We knew it!" Mrs. Herbert deferred, kindly replying, "Boys and girls, I was likely selected for this award because I have such wonderful students." Mrs. Herbert continued, "Being named Teacher of the Year is an honor. I have learned so much from the amazing colleagues I have worked with over the years. The trust and support of the Slade community: parents, students, fellow teachers, and staff have empowered me to strive to do my best each day."
A parent of a current fifth grade student, Mrs. Slack, had nothing but praise for Mrs. Herbert. "Mrs. Herbert has a genuine passion for teaching, which is evident in her words and actions. She offers patient encouragement to her students, as well as their parents, to ensure that they are successful in their learning and ambitions. She demonstrates respect, integrity, kindness, and she has a natural ability to motivate all of us to do our best. I wish I had been as lucky as my son to have such an incredible teacher and role model. Monsignor Slade found a precious gem in Mrs. Regina Herbert!"
As a the 2021-2022 Monsignor Slade Teacher of the Year, Mrs. Herbert's hopes for her students remain the same, "I hope these lessons remain with my students: Always be kind. Treat others with respect. Always stay close to Jesus."
As Teacher of the Year and for her continued career at Monsignor Slade, Mrs. Herbert hopes to continue her positive impact on the children of Monsignor Slade Catholic School "by helping them realize their full potential and encourage them to be their best selves."