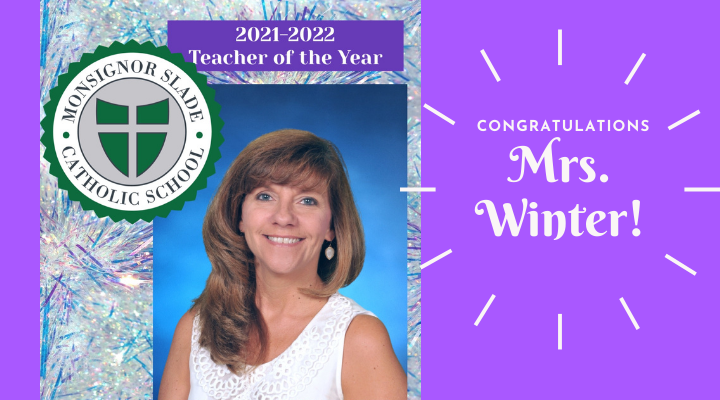 Monsignor Slade Names 2020 - 2021 Teacher of the Year
Despite winter weather delaying the start of our Catholic Schools Week, our Principal, Mrs. Cox certainly started the celebration off right at Monsignor Slade Catholic School.
This morning during morning prayer and announcements Mrs. Cox revealed the 2020 - 2021 Teacher of the Year. She kept all in suspense as she said, "As we celebrate Catholic Schools Week, we reflect on how strong we are as a school community made up of so many wonderful members: our priests, parents, students, staff, and teachers. One of the exciting things about this time of year is that I have the privilege of announcing our teacher of the year recipient. The Archdiocesan theme this year is "A Light for All to See." This candidate certainly radiates an infectious enthusiasm that shines all through Monsignor Slade Catholic School."
Mrs. Cox continued announcing Mrs. Beverly Winter as Monsignor Slade Catholic School's 2020 - 2021 Teacher of the Year.
Mrs. Winter has more than 30 years of dedicated service to schools, students, and her community. She has a positive Christian attitude that comes across in all that she does. Words that have been used to describe her include: team-player, positive, empathetic, loving, dedicated, and passionate.
It is evident that she embodies the mission of Catholic schools as she strives to reach each student where he or she is and move that student forward toward reaching his or her full potential. Mrs. Winter truly reflects the Spirit of Slade. She is the first to volunteer when extra hands are needed. She often plays vital roles in the success of our extra-curricular activities. And, she is often seen joining in with the students and having fun on Spirit Days whether she's dressing like a "Who" or joining in Catholic School's Week mismatched out-of-uniform day fun.
Mrs. Winter also plays a key role in maintaining a strong sense of community among Monsignor Slade's current families and students. Her positivity and dynamic energy ensure she is a favorite among students, many of whom remember her beyond their days at Slade. Her ability to build and maintain relationships with her students has been integral to creating an alumni network at Monsignor Slade today.