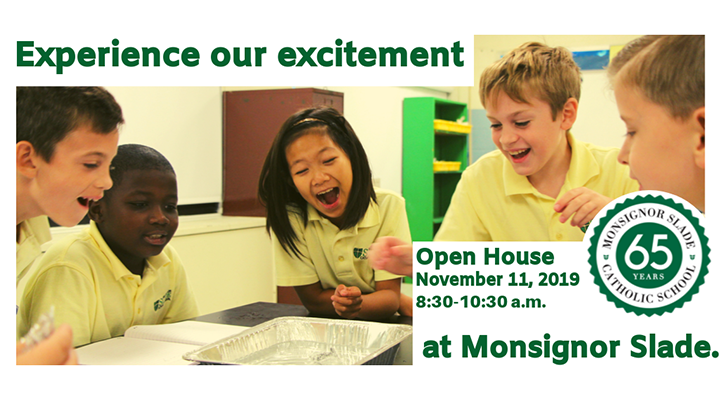 Monsignor Slade Invites All to Open House!
At Monsignor Slade Catholic School dedicated teachers have been fostering academic excellence and spiritual growth of our students for more than 65 years. Join us for fall Open House on Monday, November 11, 2019. Prospective families are invited to visit between the hours of 8:30 a.m. - 11:30 a.m. to see our school in action! Discover our students' join for learning and the passion of our teachers at all grade levels.
Visiting for Open House while our classes are in session affords prospective students and their families a chance to see what it would be like to attend Monsignor Slade Catholic School. See our STEM Lab, the new Discovery Zone, and take a moment to experience the fine arts and music education opportunities available to students.
While on tour, learn about and understand how our curriculum and programs provide ways for your child to create, innovate, and explore in their quest to become joyful, independent learners.
Monsignor Slade Catholic School serves children in Pre-K2 through grade 8. The school is conveniently located near the intersection of I-97 and Route 100 at 120 Dorsey Road in Glen Burnie. To R.S.V.P for the event or submit an inquiry for your prospective student today, visit our website.