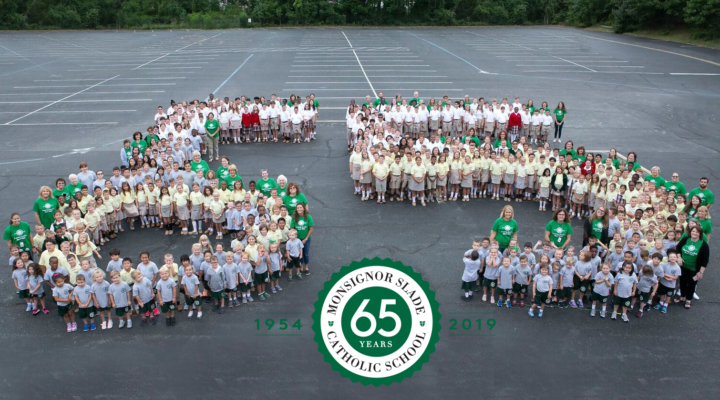 Monsignor Slade celebrates 65 years of educating students in the Catholic tradition
Today, Monsignor Slade Catholic School (Slade) celebrates 65 years of fostering academic excellence and spiritual growth for its students. Generations of families have benefited from numerous leaders, faculty and staff members, and volunteers who dedicated themselves to the education of enrolled children. Originally named Holy Trinity School, doors opened to 504 students on September 7, 1954. The students in both elementary and high school were taught by six Sisters of Notre Dame de Namur who were assisted by three lay teachers.
Holy Trinity Parish, now Christ the King Catholic Church led by Father Austin Murphy, is also celebrating 100 years of Catholic presence in Anne Arundel County. At one time, the size of Holy Trinity parish incited its division into four separate, independent parishes which determined that Holy Trinity School would serve as a regional school for northern Anne Arundel County. In July, 1973, the Northern Anne Arundel Regional Catholic School was incorporated to serve six parishes in the area. Within the next 20 years, Slade became the regional school for three additional parishes.

In 1974, Cardinal Lawrence Shehan renamed the school, Arthur Slade Regional School; a tradition of serving Anne Arundel County families and students in kindergarten and grades 1 through 8 in the primary, intermediate, and middle school levels continued. A state-approved preschool program serving three and four year olds began in 1975 which expanded in 1994 to serve children ages two through four in both full-time and part-time programs. As part of the 50th anniversary, the school was re-named Monsignor Slade Catholic School to honor the priesthood of its founder.

Currently, Slade serves approximately 500 students and their families. The school is supported by the incorporation of four parishes: Christ the King Catholic Church, St. Bernadette Catholic Church in Severn, St. Lawrence Martyr Catholic Parish in Jessup, and Our Lady of the Chesapeake Roman Catholic Church in Pasadena. Students attend from various nearby counties and parishes all across the region. The faculty and staff are dedicated to promoting the Catholic faith and intellectual development of Slade students. They do so by teaching and modeling the precepts of the Catholic faith, as well as challenging their students with a rigorous course of study. The school does this so that the children will use their faith, knowledge, and skills to shape their futures positively and work for the benefit of the whole society.

Recently, in its 65 years, Monsignor Slade Catholic School has experienced significant developments which have increased the faculty's ability to provide an excellent education to Slade students. The construction and implementation of a brand new STEM Lab took place in 2017; a new Discovery Zone learning space was added for our youngest students in early 2019. Monsignor Slade students participate in county and Catholic Youth Organization athletic leagues in field hockey, soccer, basketball, and lacrosse. Students also have opportunities to participate in cheerleading, Girls on the Run Greater Chesapeake, Boy Scouts, Girl Scouts, First Lego League Robotics clubs, and more. The arts programs at Monsignor Slade are anchored by robust performing arts and choral programs, plus an instrumental band which has been winning top accolades and awards for more than 40 years.

We would love to hear your stories about Monsignor Slade Catholic School, please share with us on social media or give us a call at 410-766-7130. Mark your calendars for April 25, 2020--a celebratory event will be held. Families can also learn more about our academic offerings or visit our school, inquire online today.