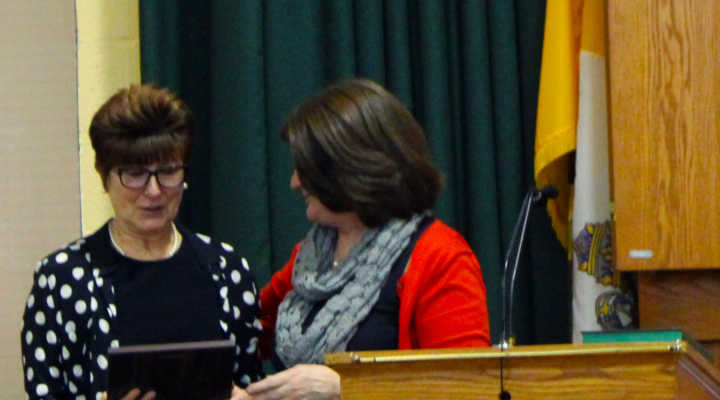 Monsignor Slade Catholic School Names Teacher of the Year
As teachers are being celebrated across the Archdiocese for their dedication to students, hard work, and commitment to developing themselves as professionals, Mrs. Loretta Federline has been named the 2017-2018 Monsignor Slade Teacher of the Year. Recognized as someone who embodies the mission of Catholic Schools, Mrs. Federline truly believes all students can succeed. She continually strives to encourage their growth, development, confidence, and creativity in the classroom.

Mrs. Federline's dedication to the education and advocacy of students has spanned 45 years, with the most recent 12 being given to the children of Monsignor Slade. Having worked in public and private school settings in Montgomery, Howard, and Anne Arundel counties, Mrs. Federline's areas of expertise include working as a special education teacher, a reading resource teacher, a staff development in-service trainer, a teacher mentor, and a curriculum developer.
Mrs. Federline spearheads the Voyager Passport resource program at Monsignor Slade. This is a comprehensive reading intervention program for grades K- 4 to help meet the needs of struggling readers by touching on the five critical areas of reading through strategies. Monsignor Slade is one of the few Catholic schools in the Archdiocese of Baltimore to offer this depth of resource intervention at the elementary school level.
Cognizant of the challenge to select one teacher from more than 30 certified, outstanding faculty members, Mrs. Cox, principal of Monsignor Slade, enlisted the entire faculty to submit nominations. Among the many positive endorsements, Mrs. Federline was characterized as being a master teacher, consummate professional, and a role model. "Mrs. Federline seeks to enrich the academic and personal lives of her students. Like Jesus, she is inclusive of all no matter what hurdles a student may be facing," says Mrs. Cox.
Mrs. Federline notes that it is the students themselves who motivate the adults. "Their enthusiasm when they meet success is absolutely contagious, and we are all thrilled to watch them soar. These students work very hard to overcome learning challenges and be risk-takers; they learn how to be good listeners and independent learners. In many ways, the challenges they tackle in the resource room translate into very strong life-long learning skills. We strive for the students to know their learning styles so well that they are able to advocate for themselves when they move ahead."
It is clearly evident that, for Mrs. Loretta Federline, education is not merely a profession; it is her calling.