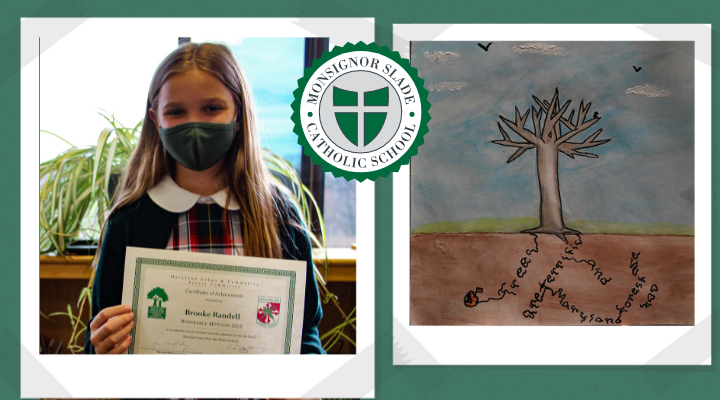 Fifth Grader wins Honorable Mention in Maryland Arbor Day Art Contest
Fifth-grade students were invited to participate in Maryland's Arbor Day Poster Contest hosted annually by the department's Tree-mendous Maryland program.
Brooke Randell, a fifth-grader at Monsignor Slade, received Honorable Mention for her entry, pictured above.
The Maryland Forest Service accepted hundreds of entries for the 2022 Arbor Day Poster Contest. Selected winners from each participating county were forwarded for judging by the volunteer Maryland Urban and Community Forest Committee.

Fifth-grade student artists who submitted Arbor Day posters to the Maryland Department of Natural Resources expressed their artistic vision in various mediums, including colored pencils, crayons, markers, and paint, to illustrate their interpretation of "Trees are Terrific... and Maryland Forests are Too." Their entries were judged by a panel of forestry experts and a special guest judge, Maryland First Lady Yumi Hogan, who is an accomplished artist and adjunct professor at Maryland Institute College of Art. Students' artwork depicted trees cleaning the air, creating shade and supporting healthy outdoor living.
The first, second and third place winners of the contest were from Harford County, Charles County, and Carroll County, respectively. Their schools will receive trees for planting at their schools in addition to recognition as winners.
"Our Arbor Day Poster Contest provides a great opportunity for Maryland's 5th grade students to learn about the importance of our forests while recognizing their artistic talents," Natural Resources Secretary Jeannie Haddaway-Riccio said. "I am always impressed with the quality of their work which demonstrates that they will be good stewards of our natural resources for years to come."

Portions of this story adapted from news.maryland.gov.