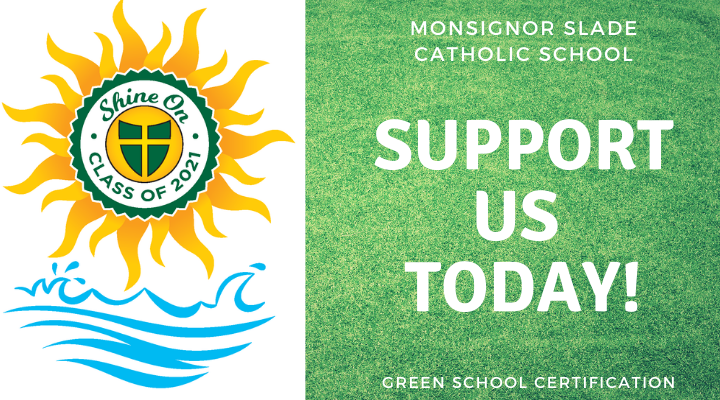 Class of 2021 holds Shine On! Benefit Concert
Monsignor Slade Catholic School's graduating class will host and perform in Shine On!, a benefit concert, to reduce the school's carbon footprint on May 21, 2021. The concert will begin at 11 a.m. then run until approximately 1:00 p.m. Join us for the live-streamed event via our Facebook page: @msladeschool or www.facebook.com/Msladeschool
Shine On! will feature many different acts highlighting the talents of the Class of 2021, alumni, and a video presentation about Monsignor Slade's environmental impact from ClearShark H20. Members of the graduating 8th grade class chose for profits from the benefit concert to align with Monsignor Slade Catholic School's efforts to earn certification as a Green School. The students have spent their year in music class planning the benefit concert, developing the acts, and gaining insightful knowledge of the school's environmental impact through our non-profit collaborative organization, ClearSharkH20.
Any donations or contributions to the students' Shine On virtual tip jar will go toward the purchase of solar panels to decrease the carbon footprint of MSCS. To support the purchase of solar panels, contribute online: https://forms.diamondmindinc.com/msladeschool/shineon2021 These efforts help the school and students to meet one of the requirements of our Green School application--partnering with a local non-profit organization.
The students, with Mrs. Abbott's encouragement, chose to take on this project after experiencing the 7th grade music and arts curriculum which involves exploring the role music plays in societal expression of social issues and the impact it has on American politics. Mrs. Karin Abbott, our arts integration specialist and Archdiocesan 2019 - 2020 Elementary School Teacher of the Year, taught her current 8th grade students about many facets of the music industry during the school's pivot to distance-learning during the pandemic. The students are eager to perform the benefit concert planned using knowledge they gained in 7th grade as they explored the impact history has had on music, the development and growth of the music industry and the varied jobs that musicians contribute to in today's workforce.


ABOUT MONSIGNOR SLADE CATHOLIC SCHOOL
Monsignor Slade Catholic School is a private elementary school for Pre-K2 through 8th grade students. Rooted in Catholic faith and committed to academic excellence, Monsignor Slade Catholic School is dedicated to forming the whole child to know, love, and be disciples of Christ.
ABOUT CLEARSHARKH2O
ClearShark H2O, an initiative of ClearShark Charitable Foundation, is a small local grassroots organization comprised of several volunteers, one part-time paid educator, and high school/college interns. The volunteers include educators from Anne Arundel County Public Schools, local business owners, and current/retired business professionals. ClearShark H2O's mission is to provide environmental education through hands-on authentic programs and experiences that are designed to inspire a passion to preserve and protect Maryland's waterways. We believe that environmental stewardship is a lifelong pursuit that starts with providing education at a young age to help students understand their impact on the environment and instill a lifetime of respect for our waterways.