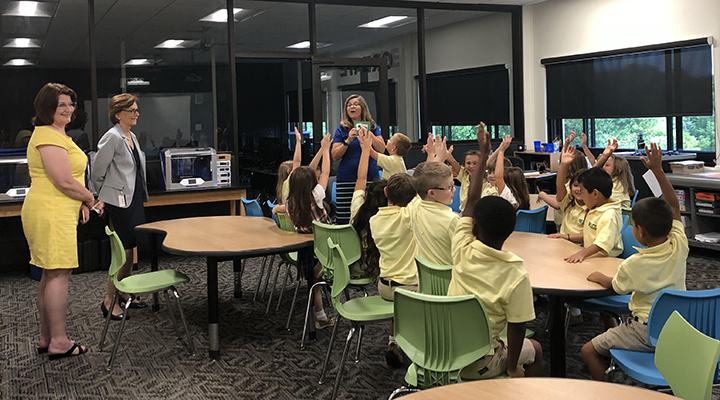 AOB Superintendent Dr. Hargens Visits Monsignor Slade
Dr. Donna Hargens, the new superintendent of Catholic schools for the Archdiocese of Baltimore, stopped by Monsignor Slade today. She spent some time touring our school with Mrs. Cox. During her visit, Dr. Hargens was able to see our first graders, fourth graders, and STEM Lab in action. She also visited the school counselor's new space and the classroom of our reading resource teacher, Mrs. Federline, who is our 2018 Teacher of the Year.
The Archdiocese conducted an extensive national search for a new superintendent. To our good fortune the Archdiocese chose Dr. Hargens. Most recently, Dr. Hargens served as superintendent of Jefferson County Public Schools in Louisville, the largest school system in Kentucky and the 25th largest in the nation. During her career she has served children as a principal, assistant principal, and a high school Spanish and English teacher.
"I am blessed and humbled to serve the families, students, and schools of the Archdiocese of Baltimore in the role of Superintendent of Catholic Schools," said Dr. Hargens. "I am eternally grateful to my parents for their investment in my Catholic education, and look forward to joining Chancellor of Catholic Schools, Jim Sellinger, and the team of dedicated educators to provide the foundation for a strong Catholic education for students to RISE ABOVE."