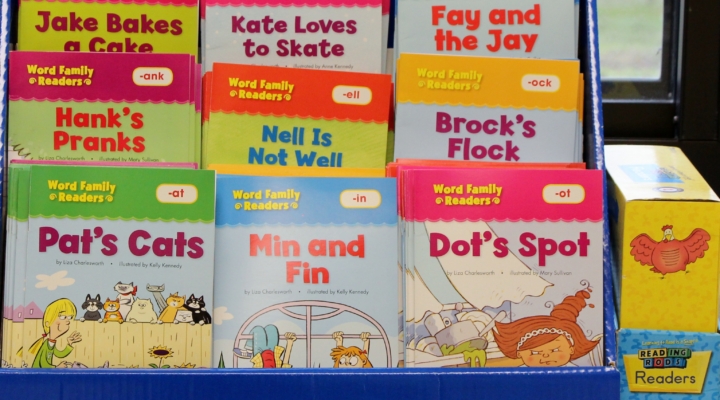 Intervention Reading Program
Monsignor Slade Catholic School is one of a few K-8 Catholic schools in the Archdiocese of Baltimore able to offer educational support accommodations for students with mild to moderate learning or developmental challenges. These accommodations may range from extra time for test taking, to seating that minimizes distractions, to specifically tailored accommodations for a particular learning style.
"Slade's successful intervention programs have been in place for quite some time, thanks to a dedicated team of professionals and teachers, who are committed, along with students and their parents, to a Catholic education which offers additional support needed to succeed in the classroom," says Mrs. Alexa Cox, Principal of Monsignor Slade. "Based on the accommodations needed, we are often able to ensure that our students can get the educational support they require, and still benefit from being a part of our structured, faith-based community in a smaller setting than the public schools offer."
"We are able to intervene early on, beginning with our Intervention Reading Program in Kindergarten, or when teachers or parents notice that a student is having difficulty," explains Principal Cox. "Normally, once students are tested, we determine that we can either provide support or we point the parents in the direction of public school or special education school, which may be better able to meet their needs. We are committed first and foremost to helping our students succeed, although sometimes it means accepting that their needs exceed what we can offer in the way of accommodations. However, we are able to provide a good range of support for many students, enabling them to realize success in the smaller setting of a Catholic school."
The MSCS Intervention Reading Program is a research-based, highly regarded intervention program available to Kindergarten through 4th grade Slade students. Although modeled after similar programs offered in the public schools, Slade's Intervention Reading Program has been significantly enriched by the experience and knowledge of faculty member Ms. Loretta Federline, who holds not one, but two Master's Degrees in special Education - one in Reading and one in Communicative Disorders.
"This program succeeds because it is a total team approach," explains Ms. Federline, "with students, parents and faculty all invested and committed to the success of the child. The faculty here in particular bend over backwards to ensure that students coming to the resource room do not miss out on group reading time in the classroom -- we work very hard together as a team to ensure that this program is as well-coordinated and effective as it can be."
Center-based learning in a dedicated classroom is just part of the plan for helping a student succeed -- there are also monthly team meetings with guidance, nursing staff, teachers and administration, as well as lots of progress monitoring along the way. The Intervention Reading Program is a comprehensive reading intervention for grades K-4 to help meet the needs of struggling readers. This program touches on the 5 critical areas of reading and works on strategies only touched upon in basal readers. This program also gives teachers the ability to closely monitor student progress.
One of the few Catholic schools in the Archdiocese of Baltimore to offer this depth of resource intervention at the elementary school level, Ms. Federline notes that it is the students themselves who motivate everyone else on the resource team. "Their enthusiasm when they meet success is absolutely contagious," she explains, "and we are all thrilled to watch them soar. These students work very hard to overcome learning challenges and be risk-takers; they learn how to be good listeners and independent learners. In many ways, the challenges they tackle in the resource room translate into very strong life-long learning skills. Our goal is for these students to know their learning styles so well that they are able to advocate for themselves and their learning styles when they move ahead into 4th grade and beyond," sums up Ms. Federline. "Their success becomes self-promoting, and we are all proud to watch them move ahead with confidence. We are blessed to have a school community so dedicated to providing early and consistent intervention -- it truly is a team effort in this case."
See Student Services for more information about the resources provided to students at Monsignor Slade.